CAR: BMW Z3
YEAR: 1996, 1997, 1998, 1999, 2000, 2001, 2002
ALL SALES ARE FINAL. NO RETURNS AND EXCHANGES
Description
These are BMW Z3 Standard Seats
These are NOT compatible with Z3 M Edition or Z3 Sports Edition
M Edition and Sports Edition feature a crotch stitch on the seat
Standard does not have this stitch
Comes with Genuine Leather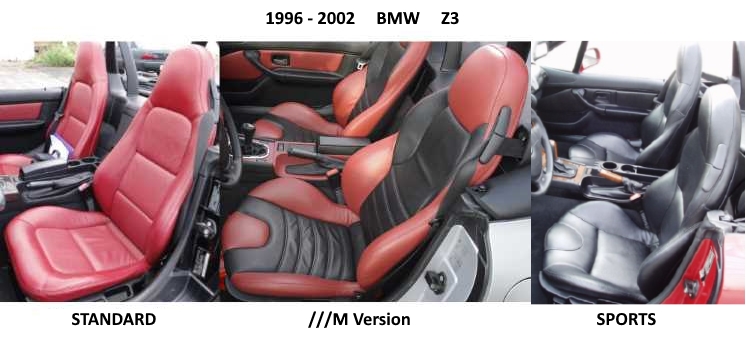 Returns & Warranty
ALL SALES ARE FINAL. NO RETURNS AND EXCHANGES
After you place the order
Your order is very important to us and we want to make sure that you get the best possible experience with us. Please make sure that you provide us the valid email address and phone number when you place the order. Sometimes we call our customers to go over orders. To us, every order is a custom order.
We will ship within 2 business days after your order has been placed
Please be patient while we work on your order.
Installation & Pictures
Please note that our items do not come with installation instructions, but we are always adding more video links here to help you install our products. If you have created an installation video, or have written instructions then please let us know.
Please know that we are always looking for installed pictures. They also help our customers visualize the final product or to better understand the color combinations.
Photos come out best when you take your car out in the sun and then take pictures from different angles
Please send us your installed pictures through email (support@ridies.com)
They will be placed in our photos section
Feedback
Your feedback is extremely important to us. We take your feedback very seriously and are always improving our processes. You can either call us or send us an email to let us know how your experience was with us. This is how we have been able to make the best quality aftermarket seat covers in the world.
Tags
Making of Our Seat Covers
Watch our craftsmen in action as they meticulously handcraft your OEM replacement seat covers. We take pride in the excellent craftsmanship of our workers and provide them with the best working conditions possible. Check out the video to see the intricacy and attention to detail that goes into each piece.